C7224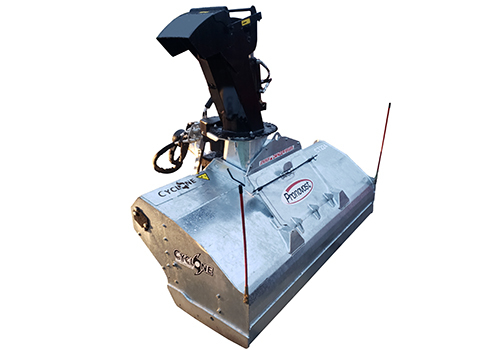 | | |
| --- | --- |
| Working width | 72" / 1829 mm |
| HP recommended | 25 à 40 CH PDF |
| Cutting height | 24" / 610 mm |
| Drum diameter | 24" / 610 mm |
| Weight | 987 lbs / 449 kg |
Add to compare
Options
CHOICE OF CHUTE
| | |
| --- | --- |
| Semi-industrial chute with greasable hinges and access panel (removable) | PSIG-5472 |
| 3-Deflector semi-industrial chute with greasable hinges and removable access panel. | PC3C-GR1 |
HOSE KITS
| | |
| --- | --- |
| Hose kit for basic functions. Includes hydraulic hoses connecting the tractor oil outlets to the deflector adjustment cylinder and the chute rotation motor. * Installation not included. | PKB-GR1 |
| Hose kit for hydraulic wings function, for tractor with 4 oil outlets. IMPORTANT NOTE: The action of each hydraulic wing controlled separately is strongly recommended. Connecting both hydraulic wings with a "T" can lead to uncontrolled opening of a wing and cause breakage to nearby obstacles. * Installation not included. | PKB-CO-80-2 |
| Hose kit for hydraulic wings function, for tractor with 3 oil outlets. IMPORTANT NOTE: The action of each hydraulic wing controlled separately is strongly recommended. Connecting both hydraulic wings with a "T" can lead to uncontrolled opening of a wing and cause breakage to nearby obstacles. * Installation not included. | PKB-CO-72-DV |
| Hose kit for hydraulic wings function, for tractor with 2 oil outlets. IMPORTANT NOTE: The action of each hydraulic wing controlled separately is strongly recommended. Connecting both hydraulic wings with a "T" can lead to uncontrolled opening of a wing and cause breakage to nearby obstacles. * Installation not included. | PKB-CO-72-DV2 |
SCRAPER BLADE
| | |
| --- | --- |
| Scraper blade, Hardox 450, reversible, not sharpened 1/2" x 3 1/2" | SIT1-C72 |
| Scraper blade, stainless steel, reversible, not sharpened 1/2" x 3 1/2" | SST-C72 |
| Scraper blade, Tivar, 3/4" x 3 1/2" x 71 3/4", reversible, not sharpened | TV-C72 |
WINGS
| | |
| --- | --- |
| Fixed, hot dip galvanized wings with floating skid shoes | CO-72F |
| Hydraulic, hot dip galvanized wings with floating skid shoes (up to 8') and cylinder. | CO-72HYD |
SKID SHOES
| | |
| --- | --- |
| Frame side skid shoes, Tivar, reversible, 1 1/4" thick x 16 1/2" long, kit of 2. | TVP-C80 |
CHOICE OF COLORS
| | |
| --- | --- |
| Hot dip galvanized | |
| Blue | C72-02 |
| Orange | C72-04 |
| INDUSTRIAL yellow | C72-06 |
| Green | C72-07 |
| Black | C72-10 |
| PRONOVOST red | C72-08 |
3 POINT HITCH KIT
| | |
| --- | --- |
| Lower attachment and top link 5" higher. | PM5-C80 |
Additional Information
Hot dip galvanizing
What is Hot Dip Galvanizing?
Hot dip galvanizing is a metallurgical bonding of zinc to steel performed in controlled conditions in a factory setting. This simple process is characterized by exceptional corrosion resistance thanks to the molecular adhesion of the two metals, as well as cathodic protection.
The image below shows the difference between painting and galvanizing when the coating is damaged.

It is readily apparent that while rust quickly spreads below the paint, zinc covers the damaged area.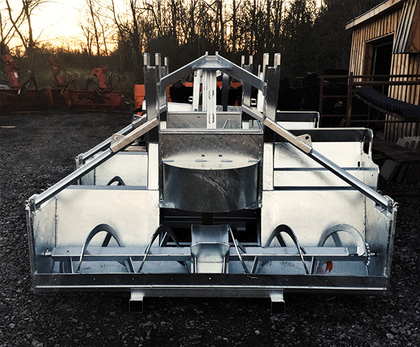 Complete specifications
| | |
| --- | --- |
| HP recommended (min. - max.) | 25 to 40 HP PTO |
| Working width | 72" / 1829 mm |
| Cutting height | 24" / 610 mm |
| Hitch category | 1- 26 13/16" / 681 mm |
| Impeller diameter | 24" / 610 mm |
| Depth of drum | 10 1/2" / 267 mm |
| Number of impeller blades | 4 |
| Impeller shaft diameter | 1 9/16" / 40 |
| Height of impeller center | 21" / 533 mm |
| Rotor RPM | 540 RPM |
| Required RPM for the tractor PTO | 540 RPM |
| Number of augers | 1 |
| Main auger diameter | 14" / 356 mm |
| Bearing / ductile iron housing | 1" / 25 mm |
| Drive chain - Main auger | 50H |
| Number of shear bolts | 1 au rotor et 1 à la vis |
| Drive shaft included (optional) | T40 |
| Scraper blade - High quality steel | Included |
| Scraper blade - Semi-industrial made of Hardox 450 | SIT1-72 - 71 3/4" |
| Scraper blade - Tivar | TV-C72 - 71 3/4" |
| Scraper blade - Stainless steel | SST-C72 - 71 3/4" |
| Chute - Semi-industrial with greasable hinges and removable access panel | PSIG-5472 |
| Chute rotation maximum angle - Hydraulic motor rotation | 270° to 345° adjustable |
| Antifriction for chute | Ring |
| Color | Hot dip galvanized |
| Weight | 987 lbs / 449 kg |
| Weight including chute | 987 lbs / 449 kg |